As mentioned in the article Markets of Shenyang – Foodstuffs, this town has no shortage of places where you can shop. The trick with markets in Shenyang is that you need to know exactly where to go for which type of goods. With foodstuffs, it seems obvious. A traditional farmer's market is the apparent choice.
But with other wares, it is not always as easy. Say, you want new pots and pans? You go to the kitchen market. Shoes? Why – shoe city, of course. Stationary? You'll probably head to the Market of Small Things. But what if you needed ALL of the above in a single day? Then your best bet would be to go to Shenyang's shopping Mecca, where there are very few things you will NOT be able to find – Wu'Ai Market.
Where is this place?
Wu'Ai is located in the northern part of Shenyang's city center. It is accessible via public transport, and driving there is not recommended. As the largest logistics hub in China's Northeast, parking is notoriously difficult in that area.
And while many of the buildings have underground parking, merely trying to get into the parking garage can take up to an hour or so, as the streets around are dreadfully congested. Don't say I didn't warn you.
Getting there by bus
Luckily, there are alternatives. The best way to go is by bus. A large number of buses stop at Wu'Ai Market station (五爱市场 in Chinese, wǔ ài shìchǎng in pinyin): 103, 125, 173, 219, 227, 260, 273, 293, and 503.
If that is not enough for you, buses 151 and 501 stop at 五爱市场西区 station (wǔ ài shìchǎng xī qū in pinyin, which translates to Wu'Ai Market Section West) on Renao Road (热闹路 in Chinese, rènao lù in pinyin). Since 热闹means noisy, I think this is a strangely fitting street name. Few places in Shenyang are as loud as the area around Wu'Ai Market.
Then there is a bus stop of the same name (五爱市场西区, wǔ ài shìchǎng xī qū in pinyin, Wu'Ai Market Section West in English) at Fengyutan Street (风雨坛街 in Mandarin, fēngyǔtán jiē in pinyin), where buses number 134, 212, 224, 263, 326, 334, and 800 stop.
And there are two more bus stops called 五爱市场 (wǔ ài shìchǎng in pinyin). One, for bus line 294, is on the corner of Nanlejiao Road (南乐郊路in Chinese, nán lèjiāo lù in pinyin) and Xiao Nan Street (小南街 in Chinese, xiǎo nán jiē in pinyin). And the second one, which is used by bus lines 237 and 296, is on the corner of Nanshuncheng Road (南顺城路 in Chinese, nán shùnchéng lù in pinyin) and Fengyutan Street(风雨坛街 in Mandarin, fēngyǔtán jiē in pinyin).
What exactly is Wu'Ai?
Wu'Ai Market is not only Shenyang's single biggest logistics hub, but it is also the most significant place of commerce in all of Dongbei (i.e., China's Northeast). Defining what exactly is and isn't Wu'Ai Market can be a bit difficult, though. Depending on how you count, there are at least 4 buildings that constitute the heart of Wu'Ai, though. Plus some markets on the periphery that could be counted as belonging. As well as hundreds of smaller shops that are not part of Wu'Ai, but are very close, and also merit checking out. We will concentrate on 6 buildings today that I feel are the most important.
Because the place is so big, the worst thing you can do is go in and 'just look around.' Doing that is a recipe for disaster. Instead, you need to make yourself a list of things you want to get, then set up a game plan for which building and which floor you hit on your shopping spree. Trust me, if you go in 'blind,' you will regret it later.
But never fear: I have put together the perfect overview for you. Every building and what to find on each floor. This way, you only go where you need to – no headaches, no overwhelm.
Wu'Ai International Trade City Phase 1
Let's start in order, with the building grandly called Wu'Ai International Trade City Phase 1. It is the smallest of the structures, located off Bei Han Lin Road (北韩林路 in Chinese, běi hán lín lù in pinyin).
On 5 floors (plus one floor of underground parking lots), phase 1 brings us mostly underwear, some bedding, and everything and anything you could need or find in an office. The official overview of what is there and where it can be found is this:
Of course, this being China, what is on the official overview and what you actually find in places can be different things. So that is why I went on a reconnaissance mission for you to check out what really is where. The following is what I found.
1F and 2F underwear – make that thermal
The lower two floors really are mostly underwear, with some swimwear thrown in for good measure. Since we are in the middle of winter, the current underwear collection tends to strongly favor wool, knitted, padded, and furry (yes, you read that correctly!) varieties. When I say underwear, I really mean long johns and long undershirts – without which you will not survive a Dongbei winter.
I might have to go on another fact-finding mission come summer. It is hard to imagine what will be sold on those two floors then. To my shame, I have to admit I had never paid this close attention before to what exactly is sold where in the maze that is Wu'Ai.
3F socks, bras, etc.
The third floor of phase 1 brings us 'real' underwear, though, all year round. Bras, panties, boxer briefs, socks of all shapes, materials, and colors imaginable. There is another seasonal particularity, though.
With the end of the year being near, China is getting ready for its biggest festival: Chinese New Year or Spring Festival. And that brings peculiar requirements for clothing. For good luck, one should wear something red on and around Chinese New Year. Especially if it is your Chinese zodiac year (i.e., when you are entering a year that has the same zodiac sign as the year of your birth), called 本命年 in Chinese (běn mìng nián in pinyin). It would be too long to go into detail on this, but please let me know in the comments or via private message if you want me to do an in-depth article about the Chinese zodiac signs and how to protect yourself during your 本命年.
Article or no article, though, the result of this tradition is mountains of different kinds of red socks, bras, panties, boxer briefs, tidy reddies (or what do you call red tidy whities?) and similarly interesting undergarments.
4F bedding
The bedding articles in this building are described as 'high-end.' This means that instead of stacks of sheets, blankets, pillowcases, etc., you get to see completely equipped bedrooms and 'show beds' all decked out with the merchandise. An interesting sight for sure.
5F stationery – and sooo much more
The highest floor in Phase 1 is dedicated to stationery, but also everything and anything that you could possibly find in an office. Like pens, notebooks, printing paper and calligraphy supplies.
And even office decorations underlining the importance of the person sitting in it. Such as sculptures of big Chinese cabbages or toads with a coin in their mouths signifying wealth. Or plaques that you can get engraved with your name, so everyone knows who is boss in this office. Have a look around. Seeing what is on offer here gives you fascinating insights into Chinese work and office culture.
If you want even more variety on what can be had on this floor, you might want to check out the Market of Small Things near Longzhimeng Mall in Dadong District instead. They have all this and more in a dedicated market. If you are interested, let me know, and I can write another article on that market.
Wu'Ai International Trade City Phase 2
If we are being logical (not my strongest suit, but I try!), the next building we should have a look at is Wu'Ai International Trade City Phase 2. Phase 2 is dedicated to shoes, hats, bags, luggage, belts, fabric and bedding. It is also the only Wu'Ai building that has a food court.
Phase 2 is located north of phase 1, bordering Renao Road (热闹路 in Chinese, rènao lù in pinyin).
Here is what they have on offer:
1F shoes and hats
On the ground floor of this building, you find shoes. And boots. And some hats. Now, because of the season, the hats are mostly knit wool caps, but there is also everything else from baseball caps to headscarves.
This is probably my least favorite floor of all the buildings in all of Wu'Ai. The reason is that the salespeople here have the constant need to yell out prices and tout their wares – right into your ear as you walk by. It is also one of the smelliest of all the floors because most of the shoes here are not real leather. So, the stench of solvents, glue, rubber, and who knows which other chemicals permeates the air. In addition, it is one of the busiest floors there, too. So you get jostled and bumped into quite a bit as well. Deafening, stinky and to top it all off super-hectic? Not my kind of place!
2F high-end shoes, bags, and leather belts
That is why I always try to escape to the second floor as quickly as possible. The goods are higher quality there (with prices to match), which means less acrid smells, fewer crowds, and less noise. I especially like to linger near the stalls selling real leather belts (leather being a smell I find much pleasanter) and admire the creative – if not always to my taste – leather bags.
I highly recommend spending a lot of time on that floor. And leather belts make for really cool Christmas presents, in case you are still one or two short. Or suitcases. The range of luggage they sell here is pretty impressive.
3F cloth, fabric, and curtains
The third floor of Phase 2 has curtains, as well as the materials to make them, and bedding, and clothes. Stalls selling curtains are my favorite. Not necessarily to buy, but to look at. Seeing nothing but curtains hung one next to the other has something quite surreal, I think.
The choices here for fabric might be a tad less than at the fabric market, but if you are in Wu'Ai for something else already, dropping by here might have its merits.
4F bedding
Like in the building called phase 1, 4F has bedding. But the offer here is less high-flying than in its neighboring building. You won't find nicely dressed up bed frames, but mountains of sheets, blankets, pillowcases and the like instead.
Quilts are one of the staple items on sale here. They come in many versions – from subdued pastels to lurid colors, from simple to sophisticated. Maybe you will discover one you like.
5F Wu'Ai food court
The top floor of this building holds the only food court in all of Wu'Ai Market. If you have always wanted to try some street food, but were a bit reluctant because you do not trust the sanitary conditions of the food carts outside, then this place might be for you.
While the name Gourmet Plaza is just fancy marketing speak and does not reflect reality well, the food court still is a great place to go rest when you are exhausted from all your shopping. It has a vast variety of Chinese snacks and fast food dishes. If you are shopping in a group, everyone can get exactly what they want without having to compromise on going to one single restaurant. You just choose from one of the stalls, and all meet back at your chosen table in the middle.
Payments are usually done via WeChat or Alipay, but if you insist on being old-school, the vendors will also take your cash instead.
Wu'Ai International Commodities City
The next building I would like to introduce to you is Wu'Ai International Commodities City. It is located west of the buildings of Phase 1 and Phase 2 and connected to both those buildings by covered walkways. To the north, the building borders Renao Road, and its west wall is the backside of the Double Tree by Hilton Hotel.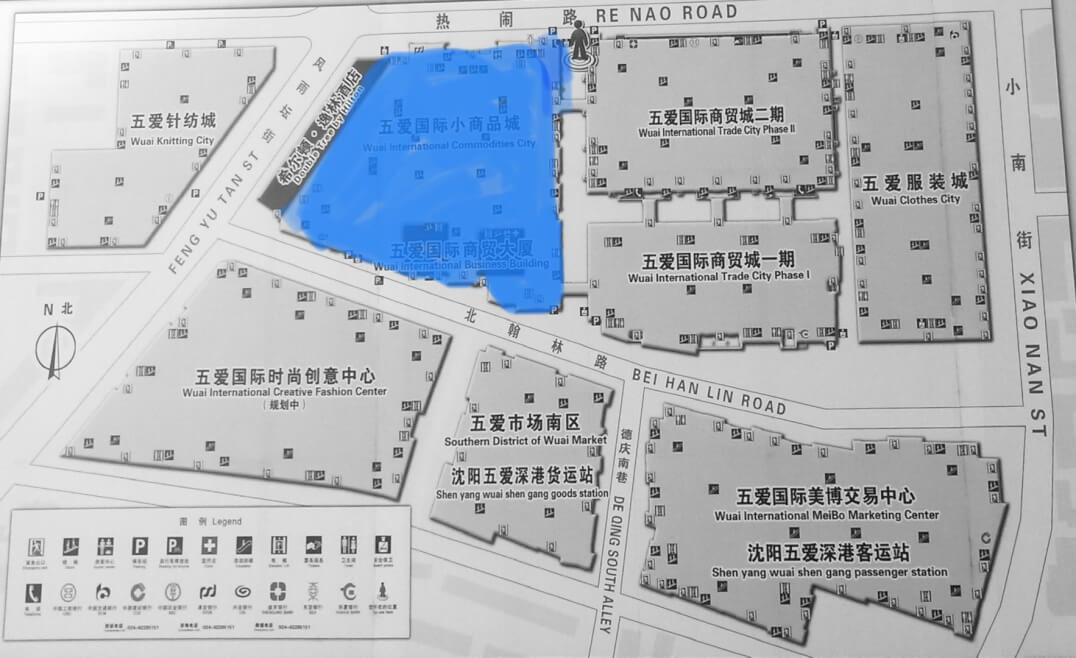 The directory for this building is very confusing. What could possibly be the difference between popular and fashionable small articles? And what do you find in a 'choicest articles department store'?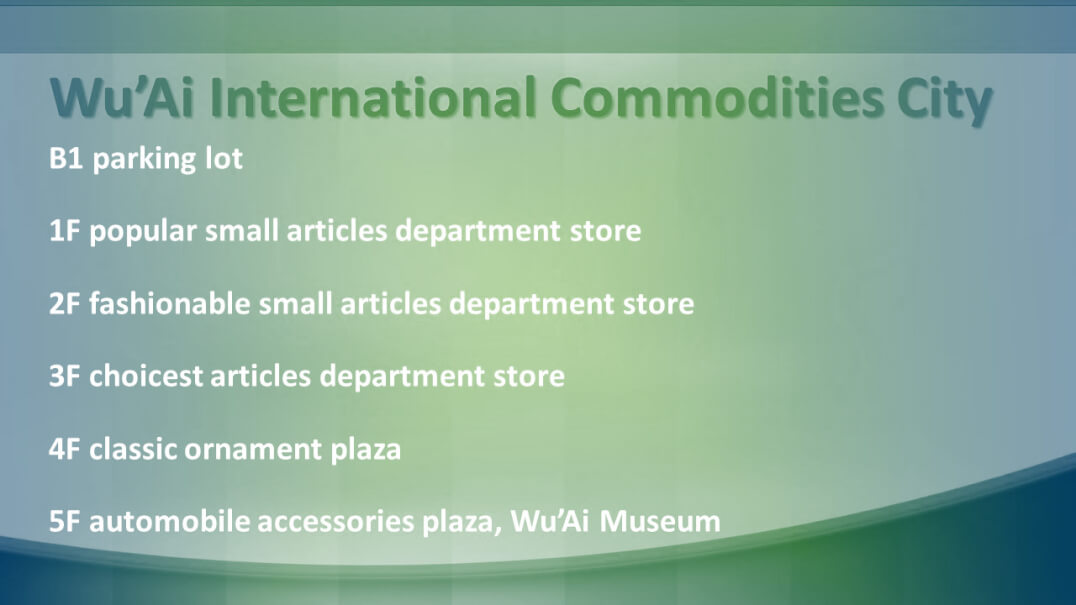 To keep you from wondering (and wandering aimlessly), I have inspected the entire building for you. So, here goes.
1F popular small articles department store
Apparently, popular small articles are toys, little plastic thingamajigs of all shapes, and other, well 'popular small articles.' It is quite frankly impossible to list every single thing they sell. You will have to go check it out yourself.
This floor is a definite contender for when you need a small present, but cannot come up with a perfect idea. If that place does not give you ideas, nothing else will help!
2F fashionable small articles department store
The second floor of this building, the 'fashionable small articles department store' is almost as much of a hodgepodge of merchandise as the ground floor. What makes these items 'fashionable' rather than 'popular'? Your guess is as good as mine.
That being said, this floor seems to have a broader range of accessories. Like sunglasses. Or wigs. Or hair extensions. And also clocks and watches. Maybe because being late is never in fashion?
3F choicest articles department store
This is a very interesting floor. The name, 'choicest articles department store' and what you find there do not go together well for me. Because a lot of the stalls on this level seem to actually be selling dollar store items. And a strange mix of dishes and electronic kitchen appliances. Other than those, you also find jade figurines, gold-plated or glass collectibles depicting symbols of wealth, health, and good fortune, and other sculptures you see in homes, restaurants, and places of businesses around China.
You should at least go have a look at them, even if they might not be to your taste. They are definitely interesting!
4F classic ornament plaza
What is called the 'classic ornament plaza' in the directory has a lot of potential for finding keepsakes, souvenirs for friends and family in your own country, or possibly some birthday and Christmas presents?
This floor is all about Chinese culture. That means more sculptures, but also amulets, lucky knots, gourds inscribed with characters or decorated with Chinese drawings or paintings, more jade, etc. Some places will carve you a seal with your Chinese name on it. How does that sound for a personalized present?
5F automobile accessories plaza and the Wu'Ai museum
The top floor of Wu'Ai International Commodities City has car accessories on the one hand and also houses the Wu'Ai museum.
The car accessories you can find here range from seat covers (many of which, due to the winter season, try to emulate yeti fur) to little perfume bottles in funny shapes that you attach to the heating/AC of your car.
Several years ago, we actually got an entire set of Hello Kitty themed seat covers for a friend who returned to her home country. If you can dream the car accessory up, this part of Wu'Ai Market probably has it!
Another section on this floor is dedicated to yarn and knitting. Why here instead of Wu'Ai Knitting City? Wu'Ai has mysterious reasons for being arranged the way it is, I guess.
Did you know Wu'Ai Market had its own museum? That was news to me, too! But after searching for it for some time on the top floor of the Commodities City building, I found it.
When I was there, the museum was unfortunately closed. But what I could see from the outside looked quite fascinating. I am trying to get in contact with the person responsible, as visiting this museum should be great fun!
Wu'ai Clothes City
Wu'Ai Clothes City is located east of the other buildings we have seen so far, on the corner of Renao Road and Xiao Nan Street (小南街 in Chinese, xiǎo nán jiē in pinyin).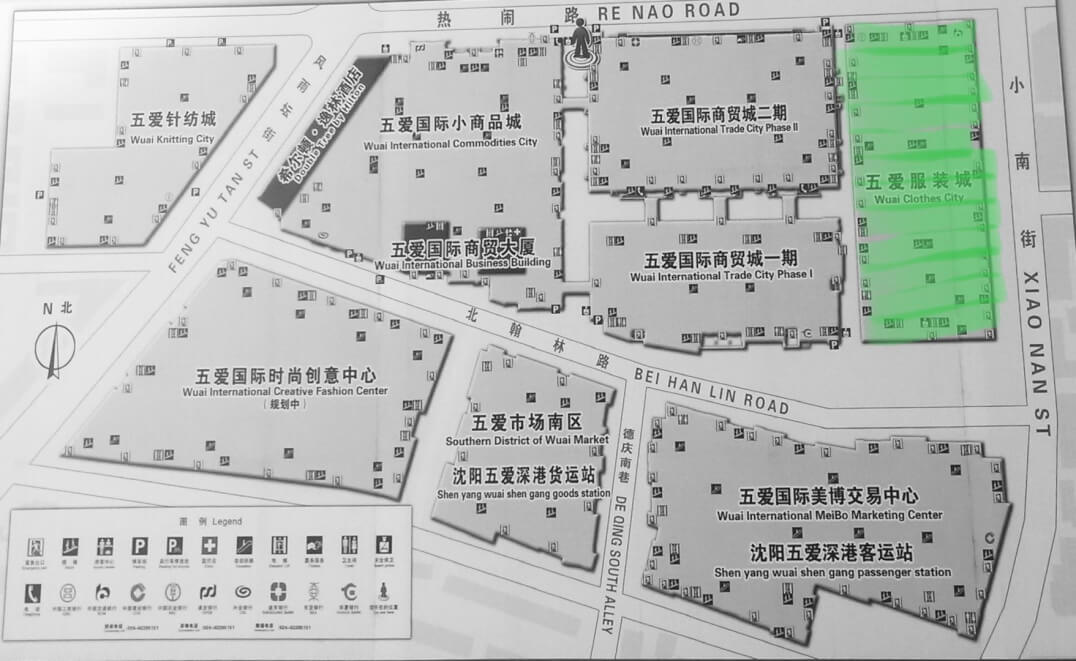 As its name implies, this building is all about clothes. The directory is very comprehensive so I will let it speak for itself.
B1 not a car park
This building does not have a car park in the basement, but B1 is also dedicated to clothes. There were not as many children's clothes there as I had expected. I believe you would be better off to check out a place like DuoDuo World (多多世界 in Chinese) next to the Exhibition Hall for children's clothes instead. But maternity clothes were there. Loads of them.
The kind that look like giant onesies. Or shapeless dungarees. If you DON'T know what I'm talking about, you should go take a look.
1F-5F all the clothes you never wanted to buy
I really cannot describe all the clothes that you will find on those levels so I will let some pictures do all the 'talking.'
Wu'Ai Knitting City
Another building of Wu'Ai that I want to introduce to you today is Wu'Ai Knitting City. It is located opposite the Double Tree by Hilton, bordering Fengyutan Street (风雨坛街 in Chinese, fēng yǔ tán jiēin pinyin).
This building only has 4 floors, but still plenty to offer the avid shopper.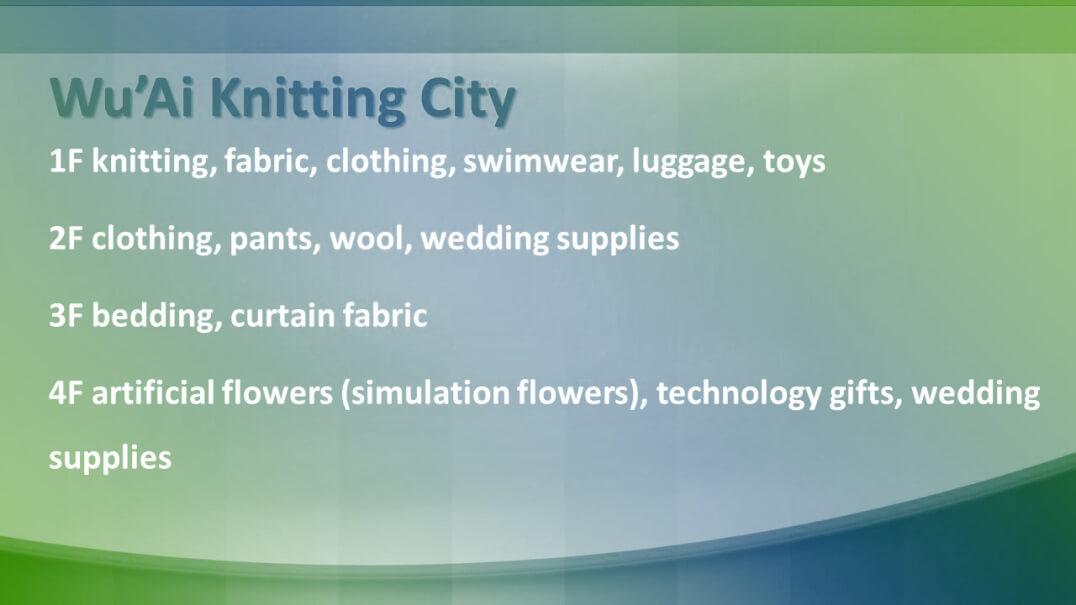 1F knitting, fabric, clothing, swimwear, luggage, toys
Contrary to what the directory would have us believe, the ground floor of Knitting City actually has a lot less knitting and fabric than you'd think. Instead, it was chockful of Christmas and Chinese New Year decorations when I visited recently.
I did find a small selection of plastic toys there, and also very cheap plastic things, from toilet brushes to plastic containers of various shapes and forms.
2F clothing, pants, wool, wedding supplies
One floor up was mostly wedding supplies, such as arches, decorations for the reception hall, some wedding dresses for rent, and more year-end themed decorations.
3F bedding, curtains, fabric
Bedding on this floor is mostly the same kind of choices you would find on 4F of the Phase 2 building. But there are fewer shoppers in this building, so if you want to escape from the crowds, this could be better for you.
The curtains are so great here. On my most recent foray to this floor, I even found cotton curtains with Peppa Pig on them. Tasteful? Maybe not. Funny? Definitely!
4F 'simulation' flowers, technology gifts, wedding supplies
The top floor of this building is not as diverse as the directory wants us to believe. I, at least, have not been able to find any technology gifts. What I did find was artificial flora of all kinds – flowers, vines, moss, foliage, fruit, vegetables, and entire shrubs and trees. Some of them more life-like than others, this seems to be the place to go for your plastic vegetation needs.
Also, I simply adore that they call them 'simulation flowers.' What do you think they could be simulating?
Wu'Ai International MeiBo Marketing Center
The last building of Wu'Ai Market I want to talk about in here is the Wu'Ai International MeiBo Marketing Center.
This is a relatively recent discovery of mine, and it is located opposite Wu'Ai Clothes City and the Phase 1 building, bordering Beihanlin Road from the south.
I was intrigued because the sign promised me exotic things such as 'articles of daily use,' and a 'body-contouring apparatus.' Who wouldn't be curious about that?
The building turned out to be something very different, though. When I walked in, I almost left again, because all I saw was a 2-story escalator, with shops surrounding it on a gallery. The problem was, you could not see any of the shops, because they were covered with promotional 'wallpaper' touting the merchandise. The place looked like it was dead, and gave me that creepy empty mall feeling. If you have been in China for any length of time, you know which feeling I am referring to. The one you get when you walk into a mall and cannot decide whether it is not yet open for business, or no longer serving customers.
I ignored the creepy empty mall feeling as best as I could, however, and soldiered on. And I am thrilled I did. Because, once I arrived on 2F of the building, I walked into a brand new world. Into a cross between the other Wu'Ai buildings and a real mall. It was brightly lit, it was clean. But it was also confusing and a bit messy because many shops seemed to be in the middle of rearranging their stock or shipping out half of their inventory. Or something.
This Wu'Ai/Mall cross had mostly clothing (men's fashion on 6F, women's fashion on 5F, underwear and knitwear on 3F, and children's clothing, swimwear, and sleepwear on 2F) in their little shops. But 4F also had everything and anything you could possibly need to equip your car. And 3F and 2F also had some bedding.
For a more relaxed and slightly higher-end shopping experience, I would recommend you check out this mysterious MeiBo Center. I was pleasantly surprised.
Oh, and for an extra fun activity while you are there: stay on the lookout for hilarious brand names. Two of my favorites were these:
This is it for my epic guide to Wu'Ai Market. Remember that at Wu'Ai and any other markets, prices are ALWAYS NEGOTIABLE and you should definitely bargain to your heart's content. If you do that, you will definitely be able to make some good bargains.
Let me know in the comments how you have fared in Wu'Ai Market in the past and what your favorite (or most hated) aspects are.