In previous articles, you've learned about various specialized markets in Shenyang – for foodstuffs, for instance. Or the Moloch that is Wu'Ai Market. But today, I will introduce a more practical market to you: one of Shenyang's Tool Markets called Nanhu Hardware Market (南湖五金工具交易中心 in Chinese, nánhú wǔjīn gōngjù jiāoyì zhōngxīn in pinyin).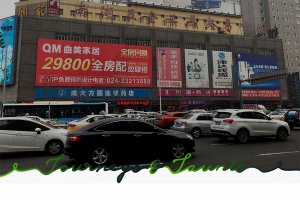 Nanhu Tool Market is not the biggest tool market in Shenyang, not even close. But its convenient location in the heart of the city makes it accessible for a quick DIY fix. No matter where you happen to live, this tool market is probably easy to get to for you.
And while it might not have the most complete selection, it has something for everybody. On two floors, they have a little of what makes every hardware store fan's heart beat faster, and on the top level, there's a hidden surprise – books, magazines, stationery, and much, much, more. Why the powers that be chose to put power tools, screws, lightbulbs into the same building as Hello Kitty notebooks, manga novels, and Chinese-English dictionaries is anybody's guess. Maybe just one of those quirks China has in store for us (pun intended).
Location
I've raved about the convenience of Nanhu Tool Market's location, but I have not told you where exactly it is, yet. So, here goes: In the middle of Sanhao Street, opposite Shengjing Hospital, in the heart of Heping District is where you can find Nanhu Tool Market(click here for the pin).
The address is 44, Wenhua Road (文化路44号 in Chinese, wénhuà lù 44 hào in pinyin).
13 different buses can take you close to Nanhu Tool Market: bus lines 109, 117, 124, 135, 152, 169, 225, 239, 244, 265, 272, k802, and 环路 (huán lù in pinyin) all stop at 展览馆站(zhǎnlǎnguǎn zhàn in pinyin, Exhibition Hall station in plain English). From that station, it's a 100m walk to the market. Manageable, right?
You could also take the subway line 2 and get off at 工业展览馆站 (or gōngyè zhǎnlǎnguǎn zhàn in pinyin, which translates to Industrial Exhibition Hall station in English). From there, you will have to walk about 600m to get to Nanhu Tool Market. Or take a shared bike, if you are so inclined.
Going to the tool market by car is less recommended, except if you plan on buying a cumbersome tool that you won't be able to take away via public transport. The reason I warn against going by car is that traffic and parking in that part of Shenyang are crazy. Sanhao Street is congested from early morning until late at night, and the sidewalks are full of people, too.
The tool market has no underground parking so you would have to find a space on the opposite side of the street or (if you are incredibly lucky) squeeze into one on the sidewalk in front of the building.
There is a row of dedicated two-wheel parking in front of one of the entrances, though. So, coming by bike could be an option.
Nanhu Tool Market's selection
Usually, the markets here in Shenyang (in all of China, really) will have at least half a dozen stalls selling exactly the same thing. Only not quite, so that you have to check all of them still trying to find the best option for you, and then negotiate a price you can live with.
At Nanhu Tool Market, however, there is a much larger variety on a much smaller scale so you will get only one, maximum two or three stalls with the same products. This makes shopping for tools very efficient if you ask me. No running from booth to stall comparing minute details and prices. You go in, check what they have, decide whether you are okay with it, pay, and get out again. Fast. And convenient.
Ground floor – stuff with a plug and so much more
On the ground floor (of 1F, if you want use the Chinese expression), you will find all sorts of tools with a plug – from drills to electric screwdrivers. But not just that.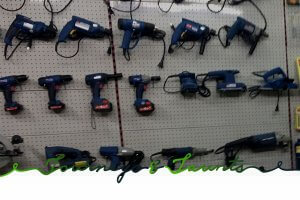 First, there's the cordless variety of the tools above.
Then there's generators.
And wrenches. And pliers.
And electric jacks. Like these.
And pallet trucks, including all and any spare parts you might need.
And cables. Lots of cables.
Basically, all medium to large tools are represented here, plus all sorts of extras.
2F – the little things any handyman needs
One floor up (1st floor for most Westerners, 2nd floor for the Chinese) has smaller, simpler tools, and parts. What do I mean by parts? Fuses, circuit breakers, nuts and bolts, screws and nails, gaskets and o-rings, shrinking hose, snap hooks, and so on.
And they have all sorts of lighting equipment. Such as bulbs, sockets, LED panels, etc. But also entire lamps. Again, the selection is smaller than at some other places, but they have a lot of basic models, and you won't get blisters from jogging along endless corridors of 'same-same, but different.'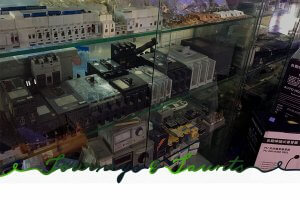 If you are looking for plumbing fittings, you are also in the right place. Faucets, pipes, tubes and the like? They have them.
Another stall sells sheet metal and wire mesh. Yet another has a surprising array of grinding stones. Another sells workwear and safety shoes. You should not go there if you need extra-large clothes or have feet the size of a basketball star, though. Finding something to fit you might be tough.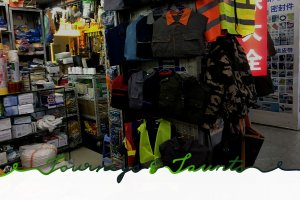 You may also come to Nanhu Tool Market for your tape and glue needs. I've bought anything from duct tape to super-strong spray glue here. Handy, since I live in a house where a lot of stuff breaks. What can I say? I have butter fingers.
3F – where trees come to die
Let's change the subject. And go to the third floor (2nd to most Laowais), where we will enter a whole other world. A world of books. And stationary. And magazines. And dictionaries.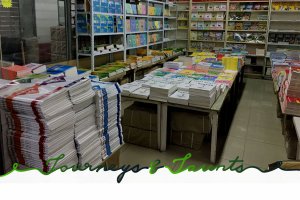 Granted, most of what you can find here is in Chinese. So, other than the smattering of English language books you may find (mostly some classics, often with English on one page, and Chinese on the opposite one, to help students of English practice their reading comprehension), it might be of limited use to you if you don't read characters all that well.
Still, going there can be worth it. Especially if you are trying to learn Chinese. Because this place is a treasure trove for learning materials for small children. Chinese children, learning English. Meaning that there are flash cards with pictures and characters on one side, and the corresponding images and English vocabulary words on the other side. Perfect for practicing elementary-level Chinese words.
Other items worth combing the stalls for are dictionaries. They have not only Chinese-English dictionaries but also those for other languages.
And they have cute notebooks (not the electronic kinds with keyboards, but the traditional ones you write your innermost thoughts into). And also those blocks with squares on them to practice writing characters.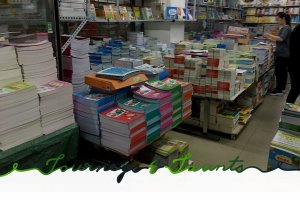 There used to be a 4th (3rd) floor with more books, and also some musical instruments. But that part of the building seems to have been closed off at the moment. All the doors leading upstairs were locked or even bolted the last time I went, at least. Maybe they are refurbishing and will reopen later on. I'll keep you posted.
This is it for this small but conveniently located tool market with a stationery/book area on top.
Let me know what you think in the comments, and whether you want more articles about the markets of Shenyang.