Some of you might already have read my list of 3 Lies and 3 Truths about Biking through South Korea. I mentioned there that we had a plan of where to go and what to see while biking from Seoul to Busan, but that we did not always (for various reasons) follow that plan.
Since a number of people have asked me for our itinerary, I will share that with you, along with an evaluation of the things we saw along the way and whether I would recommend others to do the detours to visit them or not.
But first, have a look at what we had planned for our trip: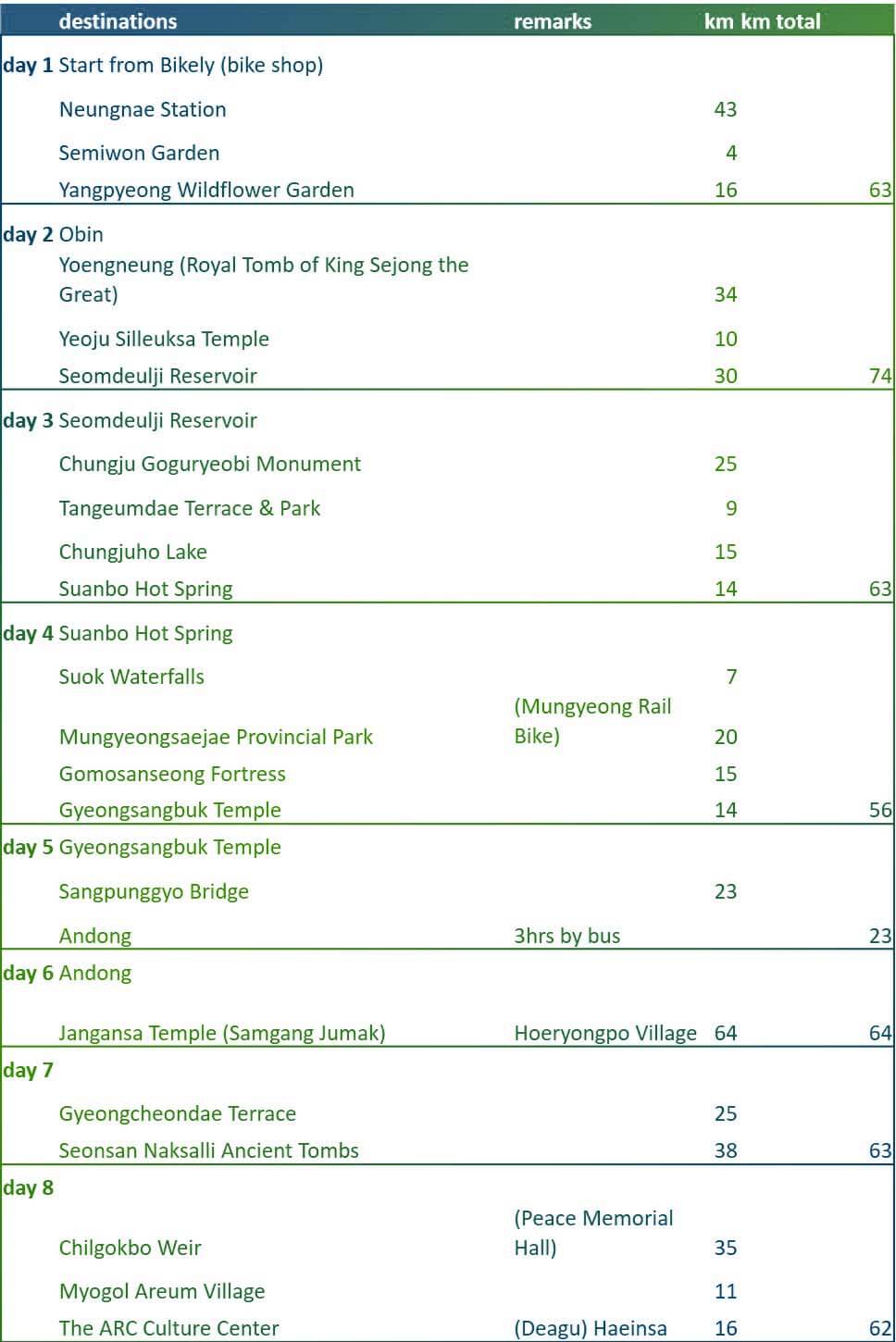 That is a total of 713 kilometers in 15 days, 12 of which we were going to spend cycling. I am not good at math, but that should roughly be a daily average of 60 kilometers on the days we were going to bike.
And here is (roughly) what we did instead. I say roughly, because I did not track every kilometer, since WiFi availability, battery life of our phones and opportunities to recharge our power banks were not quite what we had anticipated.
As you can see, we ended up doing about 50 kilometers more than we wanted to, originally. And we did them on 11 days instead of 12, so our daily average was higher than we had anticipated. We ended up doing an average of almost 70 kilometers.
This was mainly due to the fact that we got lost, and thus had to rearrange our route accordingly. Also, on the days that we camped, finding an adequate camp site presented quite a challenge. Sometimes, in the hopes of finding something more suitable, we would keep pushing on after we would usually have called it quits for the day.
Now, about what detours we found useful and which destinations we should – in retrospect – have skipped. In general, the 4 rivers bike path is nice, but a bit bland. Since we are not dyed-in-the-wool bike enthusiasts, we wanted some variety in our travels. If you follow the path religiously, however, there are very few historic, natural and cultural sites which will be 'right there'. And, when you are on a bike, even a detour of 5 or 10 kilometers is a lot when it means you will have to do the same distance again just to get back onto the path. Also, those few kilometers add up after a while.
So, our initial plan already included some 'extras'. We were most interested in seeing some reservoirs/lakes/wetlands, historic sites like royal tombs, Confucian academies or temples, and museums.
Out of all of those, the detours we found were the least worth the effort turned out to be the lakes and reservoirs. Yes, on the pictures we found on Instagram beforehand they always looked beautiful. But, Korea being quite the hilly country, many of those stunning watery plains lie behind a mountain ridge or two. We felt that every single reservoir or lake we saw lay on a hill. Or behind one, with no convenient tunnel going through it. And when we finally got there, those bodies of water were just that – water. Since we were spending our days on a bike going along various rivers, water was not as big a novelty to us as we had thought it would be. So, in the end, there were a number of reservoirs and lakes we skipped.
The detours we enjoyed the most were the museums and historic sites. The government of South Korea does a marvelous job at preserving cultural heritage and outside of Seoul, a vast majority of sites and museums is either completely free or only charges a nominal fee for entry. While it is true that to get to those sites, we also tended to have to leave the bike path, we felt those excursions were much more worth the effort.
Because the sights that we enjoyed are still so numerous, I will introduce them to you in a separate post, though. Next week!