Bangkok is a fantastic city. It is not for nothing that millions of tourists flock there every year. But that being said, sometimes, the place can be a little bit crowded a tad too touristy and quite overwhelming. It is very easy to get caught up in what is happening there and start recklessly spending on things that are not as good as you expect them to be. And, because there are so many tourists in this town, everyone thinks they have all the insights. So, some people might give you a long list of must-see places, but when you actually go there, a number of them turn out to be mediocre at best, and others are definitely not even worth the trip.
That is why I wanted to give you a short list of places and activities that I believe are a waste of time and money, and maybe even provide some alternatives you would enjoy more. Obviously, everyone is different, so things that I detest might be totally your cup of Thai milk tea. But I would like to give you my perspective regardless. This way, you can decide how much of my advice you want to take to heart and which parts you can safely ignore.
Khao San Road
The very first place I would like to list for you is Khao San Road. This street is hailed as backpackers' paradise by guidebooks and blogs alike, with cheap entertainment and cheaper drinks. Supposedly, you get the best of what Thailand has to offer, all in one place and at an affordable price, while partying with people from all around the world.
So, I went. I thought – why not, it's probably fun. Spoiler alert: it was not. Fun, that is. I cannot say anything for the drinks since neither the people I went with nor I had any drink there. What I can vouch for is that the rest that was offered – Thai massages, 'the best Pad Thai' (I must have seen at least 5 stalls proclaiming that), scorpions on a stick, cheapo souvenirs and worse electronic junk such as mini TVs, laser pointers, etc. – seemed both to be of worse quality and higher priced than you can find elsewhere.
The crowd we observed was shabbily-dressed farangs (the Thai equivalent of 老外 (lǎo wài in pinyin) or foreigners in English), families that gazed on in a bewildered fashion, and some Thais – who were running the stalls and businesses there. It gave me the same feel as walking down a street by the beach in the most touristy parts of Bali or Tenerife. Not my thing.
Suggested alternative
The alternative to visiting Khao San road I would suggest is sort of vague: pick a small alley or side street, ANY alley or side street, in most Bangkok neighborhoods instead. Again, I cannot say anything about the drinks, but when it comes to Thai massage and street food, you will be much better off than Khao San road almost anywhere else in the city.
For (slightly better-priced) souvenirs and unusual snacks such as silkworms or scorpions, you might want to try out the new Train Night market in Ratchada. While many tourists go there, it is also well-frequented by young Thai interested in a nice night out. The atmosphere is slightly vintagey, with pin-up graffiti, old Vespas parked everywhere, bikers with pimped motorcycles periodically making their rounds to show off, and old VW buses that the owners converted into bars.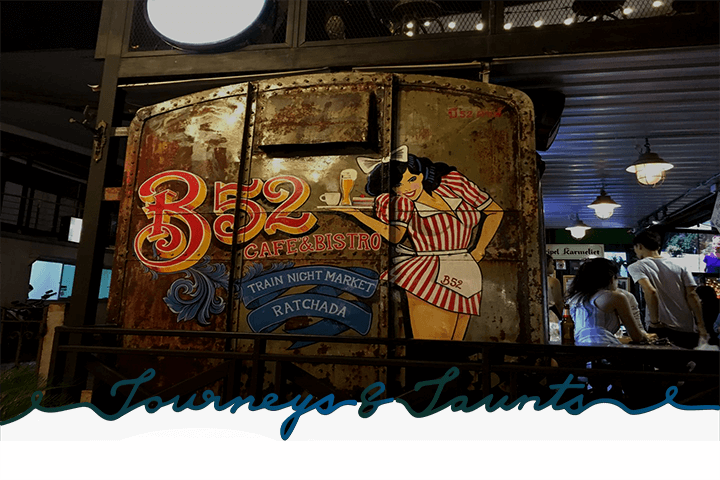 The train night market has a section with street food treats that are a tad pricier than in other neighborhoods, but it is all spotless and well-organized. In another part of the area, one can catch a drink outside the aforementioned VW buses or in one of the numerous bars lining the walkways. Yet another part has rows of stalls offering souvenirs, knickknacks, clothing, and more.
The market is open Thursday to Sunday, from 17:00-00:00, and is located on Ratchadaphisek Road (close to Esplanade Shopping Mall). The nearest MRT (the Bangkok subway) station is National Cultural Center.
Buy electronics or beauty products
One of the favorite things for tourists to do in Bangkok is going shopping. While that is a personal preference (which I do not share), there are certain things you should avoid buying from Thailand, namely all sorts of electronics and beauty products.
When people come to Bangkok, they sometimes get caught up in shopping fever. It is easy enough to understand why. There is one mall after the other, all with a dizzying array of products to choose from. And prices are quite low compared to many other countries. But that being said, you will find better deals for some of the things elsewhere.
Like cameras, computer accessories, electronic gadgets, etc. Go to Hong Kong for those, but not to Bangkok. Chances are the things you get in Thailand will be of inferior quality and break easily.
The same goes for beauty products. An American traveling with me was looking for the perfume she liked until she started using her currency conversion app and realized that the bottle she was interested in would only cost half in the US compared to what the shopkeeper in the Bangkok mall was asking.
Cremes, makeup, and other cosmetics will also be more expensive than in other parts of Asia. For these things, you are better off heading to Korea or even Japan, where the choices are vast and the prices lower.
The alternative
Instead of indulging in buying electronics and beauty products, hit Bangkok's shopping temples for high-quality silk clothing and accessories.
You could also bring back some quirky souvenirs such as fruit-shaped soap or some 'elephant pants.' They are the pants that you buy out of necessity when you arrive at a temple but are not dressed appropriately (i.e., wearing short shorts or yoga pants).
Or something yummy. Like dried fruits or fruit chips.
I even found an article online on how you can get ALL your souvenirs at 7-eleven. Maybe a bit extreme, but why not?
Go on a free Temple & City Tour
Ever heard of the expression, 'there's no such thing as a free lunch'? We found the truth of that statement out the hard way in Bangkok.
I wanted to go on a guided tour of the Grand Palace and some temples with a couple of my friends. To save us some hassle, we asked the clerk at the place I was staying whether he could arrange a tour for us. He said yes, and quoted us the relatively reasonable price of 600 bath. Since the entrance fee to the Grand Palace is 500 bath alone, I thought that was more than fair.
Unfortunately, through a clerical error, we ended up on a 'free' temple and city tour instead (I managed to get us our money back from the clerk at the hotel, by the way). This tour turned out to be a – very badly – disguised promotional trip trying to push us into buying jewelry and stingray leather purses.
We DID see 3 temples, but the explanation the guide gave us was pitiful – even less information than what was on the explanatory signs in front of the buildings. She gave us a lot of 'helpful' information regarding our birthstones, though – which came in handy when the jewelry salespeople tried to push rings, earrings, and necklaces on us later on.
I don't even want to talk about the 'tour' we got of the jewelry factory or the even more laughable stingray leather goods factory.
A better alternative
First of all, if anyone offers you anything for free, be very suspicious! This was the first time I got caught in this trap (because what we had originally signed up for was a completely different tour), but I will definitely make sure it will have been the last time.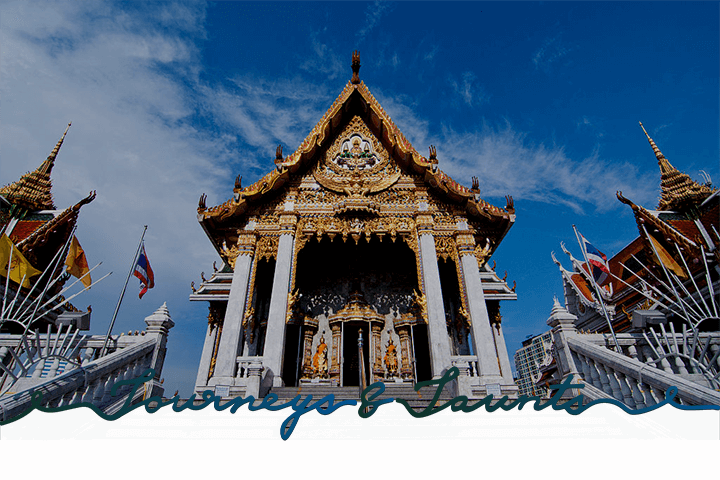 Bangkok has a multitude of beautiful temples, and I suggest you go see some of the less popular ones. Hua Lamphong Temple, for instance, is – in my opinion – a fantastic alternative to some of the more famous temples. The Grand Palace (which I ended up visiting without a tour guide in the end) is nice, but, again, probably not worth the hassle and the crowds. And the 500 bath entry. If I had to do it all over, I would concentrate on some smaller temples, and see the big ones only from the outside.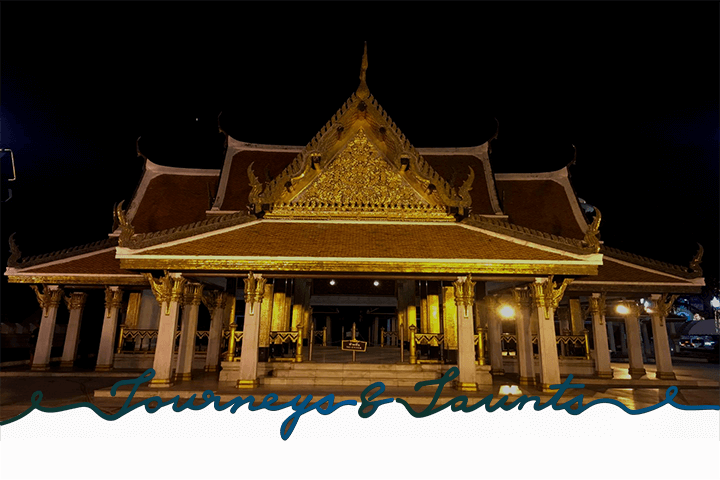 Especially at night, illuminated from all sides, the famous temples are a rare sight. And walking by them after the sun has gone down is both free and a lot more peaceful than getting jostled by crowds of tourists.
Take a friendly tuk-tuk from the roadside
The last pitfall I would like to warn you against is taking a tuk-tuk when you stroll along a touristy street, and a helpful driver offers you a ride. I know that taking a tuk-tuk is one of the 'must-do' things when people visit Bangkok for the first time. But they are so horribly overpriced it's not even funny.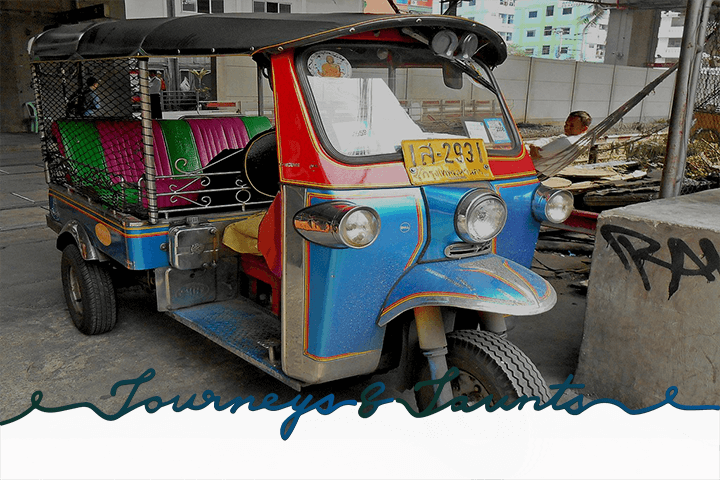 If you absolutely must have that one experience, at least be the person approaching the driver, instead of the other way around. And find out what the cab fare would be to where you want to go (through the grab app or even from looking up the directions on Google maps), then take that as your basis for negotiations. You will probably end up paying more than that, but at least you know when you get closer to a fair price while bargaining.
What I would rather do
If you want to travel around Bangkok like a local, a tuk-tuk is the last form of transport you would choose. The MRT (which stands for Metropolitan Rapid Transit) and the BTS (which stands for Bangkok mass Transit System) are the subway and sky train in the city respectively, and they are the fastest and most convenient way to get around town.
And if walking to the next stop seems too sweaty and lengthy to you, hail a motorcycle taxi. The drivers usually give you your own helmet – though no guarantee that it will be small enough to fit an average-sized head, they mostly seem to stock helmets for giants – and you get to zip past traffic and squeeze between cars like you never knew was humanly possible. In my time in Bangkok, I have come to love the bike taxis.
Taking a bike taxi is easy: queue up at one of the thousands of designated bike stops (always outside MRT/BTS stations, but also randomly every couple of 100 meters along the road) and negotiate the price with the driver. They have set prices for destinations that are close by. They are listed on big signs next to the bike stop, but only in Thai. Picture translator apps are your best friend on this.
Or, if you are more comfortable hailing your own bike, get the grab app (the Thai version of Uber or DiDi), which lets you order a bike wherever you are. Be prepared to wait longer for those, however, as it usually takes drivers a while to make it over to your location. And don't be fooled by the time indicated when you first place your order. The 3 (or 4, or 5) minutes there are total fantasy numbers, which can quickly change into something very different once the algorithm has caught up with the actual Bangkok traffic situation.
Also, there is an incredibly convenient feature of grab I discovered by accident one day: the app has English-speaking customer service staff, which pleasantly surprised me. When I was waiting a while for one of the drivers to get to me, I received a call from a lady with flawless English directing me to the opposite side of the road as the driver was unable to make a U-turn and pick me up. I was floored, as that perk was totally unexpected.
What do you think? Are there other pitfalls tourists in Bangkok should look out for? Or other alternatives you find more useful than the ones I mention here? Let me know in the comments!