This coming weekend might be the last one to enjoy the beautiful yellow gingko leaves all over Shenyang. But would you even know where to go?
Here is a list of places in and around the city you can visit to enjoy the colors of fall. Most of the information in this article comes from a round-up done by WeChat account 寰兴留学 (huán xìng liúxué in pinyin, in Chinglish, it means something like 'largely interested in studying abroad'). I hope you find it useful!
Liaoning University (Chongshan Campus)
Arguably the most famous place to see gingko trees in their autumn finest in Shenyang is Chongshan Campus of Liaoning University. They have something called the 'Gingko Golden Corridor' (银杏金廊 in Mandarin, yínxìng jīn láng in pinyin) on the old campus of Liaoning University.
It is a 200m long street, lined by 320 gingko trees, which form a sort of golden canopy overhead once the leaves have turned.
Go quickly, before they all fall off and only the bare branches are left!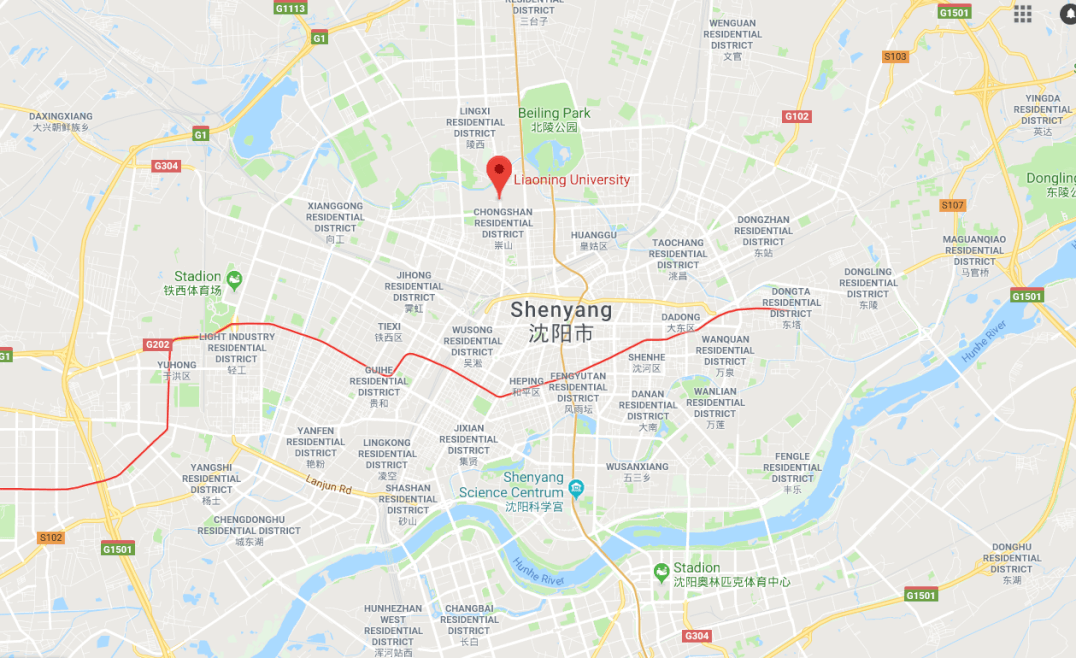 Liaoning University's Chongshan campus is located southwest of Beiling Park. It is best not to go there by car, as getting onto campus as an outsider is an unnecessary hassle. You can simply take the subway to 中医药大学 (that's zhōng yī yào dàxué in pinyin, or University for Traditional Chinese Medicine in English) and walk the roughly 500m to the campus gates of Liaoning University.
Shenyang Agricultural University
Your second option for seeing thick yellow gingko leaves in Shenyang is Shenyang Agricultural University. The campus there has a road called Tianzhushan Road (天柱山路 in Mandarin, tiānzhùshān lùin pinyin) which is colloquially called 'Gingko Road' (银杏路 in Chinese, yínxìng lù in pinyin).
In total, there are over 1000 gingko trees on the Agricultural University's campus, some of them over 60 years old. They make a very pretty sight once all the leaves have turned yellow.
As a general rule, the gingko trees at Shenyang Agricultural University take a bit longer to change color. So, hopefully, they will all be yellow by now, and not have dropped completely yet. This could be your chance!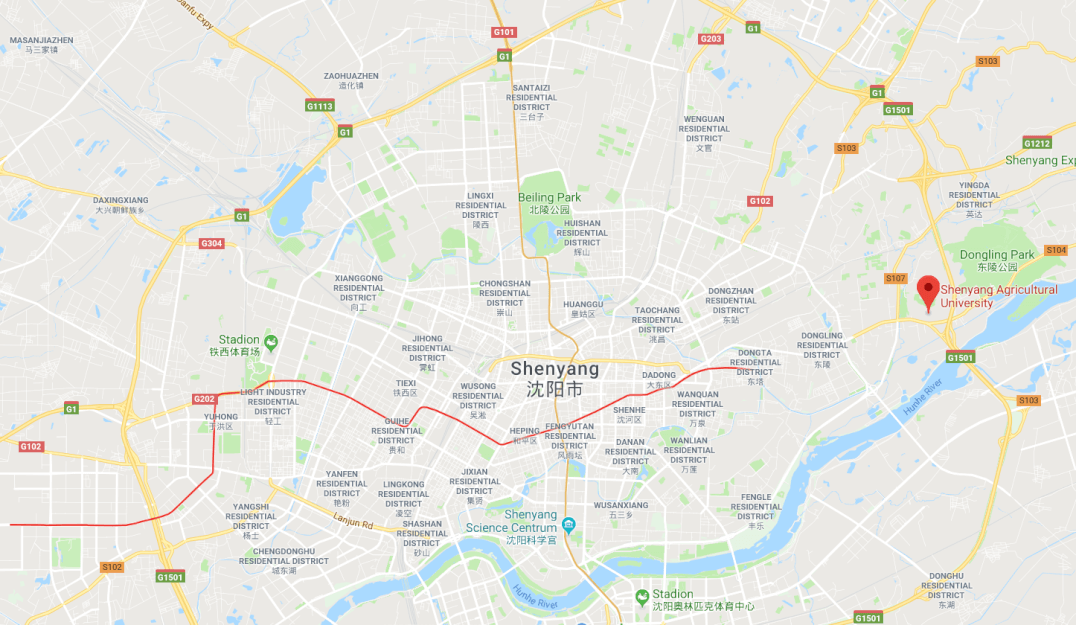 To get to Shenyang Agricultural University, you can take buses 148, 168, 218, and 385. If you come by car, you will have to park outside campus, as only students and faculty vehicles are allowed inside. But on foot, you are easily able to enter campus, without needing to register at the gate.
Shenyang Normal University
A third option for appreciating gingko trees in full fall get-up is Shenyang Normal University. In case you are unaware, 'Normal' in this case does not refer to the school being regular, or non-weird, but to a university that forms teachers and other educators.
Shenyang Normal University does not have a dedicated street on their campus filled with gingko trees, but they are sprinkled throughout the campus. If you have never been there, I would recommend a visit (no matter the time of year), as the campus houses a lot of sculptures and other art work, and is also home to Shenyang's Paleontology Museum.
To get to Shenyang Normal University, you might want to take the subway. Metro line 2 stops there, the stop is called *surprise, surprise* 师范大学 (Normal University in English, shīfàn dàxué in pinyin). You could also go by bus: lines 131, 157, 178, 191, 192, 236, 255, 326, 381, 382, and 393 all stop there. Driving over is also an option, though externals are again forbidden from entering the campus.
Luxun Academy of Fine Arts
At Luxun Academy of Fine Arts, the bulk of the gingko trees is to be found around the little square with the statue of Luxun himself on it. What is nice about admiring the gingko trees there is that you can do it as a sort of side excursion from when you go see an exhibition at the Academy. If you are a subscriber to the weekly Shenyang newsletter, you know that there is almost always some interesting artwork to be found there. If you are not, send an email to julie@journeysnjaunts.com to be put on the mailing list.
Luxun Academy of Fine Arts is conveniently located, just off Sanhao Street in downtown Shenyang. But the parking situation there is not the best, so you might consider going by public transport. Buses 109, 173, 188, 222, 265, and 289 all stop there. The closest subway stop is 工业展览馆 (gōngyè zhǎnlǎn guǎn in pinyin, Industrial Exhibition Hall in English), with about a 500m walk to the entry of the campus.
Shenyang Pharmaceutical University
If those are not enough gingko tree spotting spots for you, try Shenyang Pharmaceutical University. They have a nice walkway that is canopied by gingko trees that you are sure to enjoy.
This is probably the best spot for those who are located in Heping district, near Wu'ai Street. But again, driving to Shenyang Pharmaceutical University is not encouraged, as the parking situation is far from ideal in that area.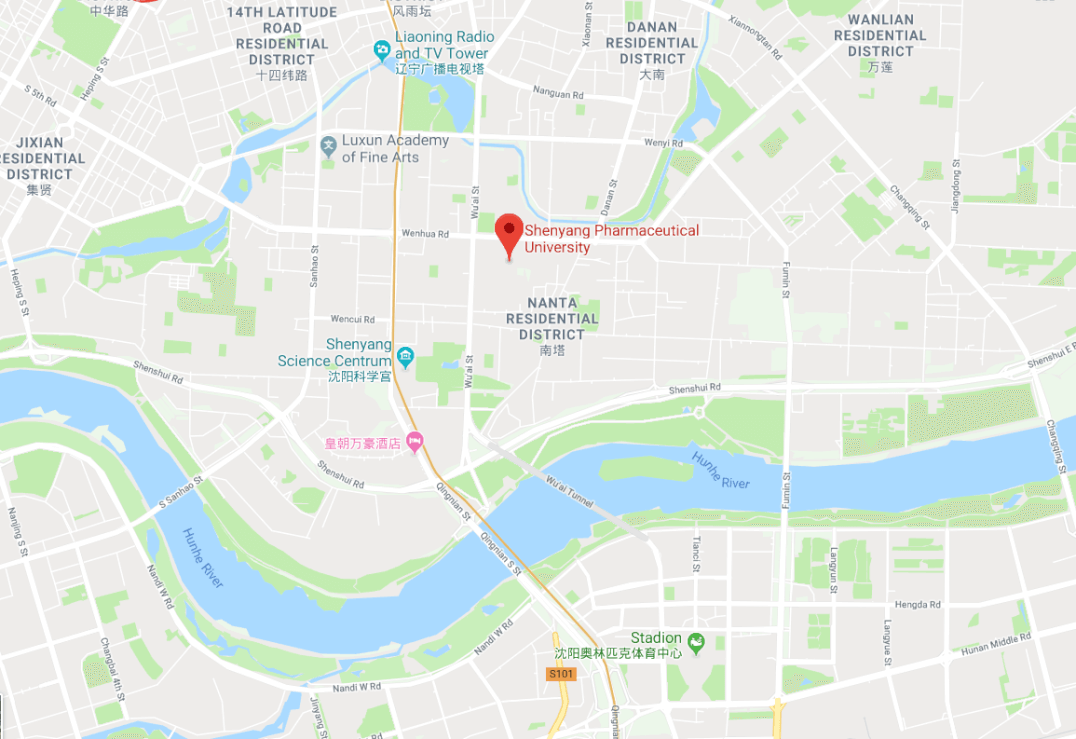 Your best public transport options are taking the bus or the subway. Buses 117, 135, 169, 224, 225, 239, 282, and 333 all stop next to the campus. The bus stop is called 陆军总院 (lùjūn zǒngyuàn in pinyin, roughly Army Headquarters in English). If you come by subway, you also get off at 工业展览馆 (gōngyè zhǎnlǎn guǎn in pinyin, Industrial Exhibition Hall in English), but walk in the opposite direction as if you went to Luxun Academy.
Other places to see gingko trees in all their yellow autumn glory are Tiexi Forest Park (铁西森林公园), just outside the second ring, in the western part of the city.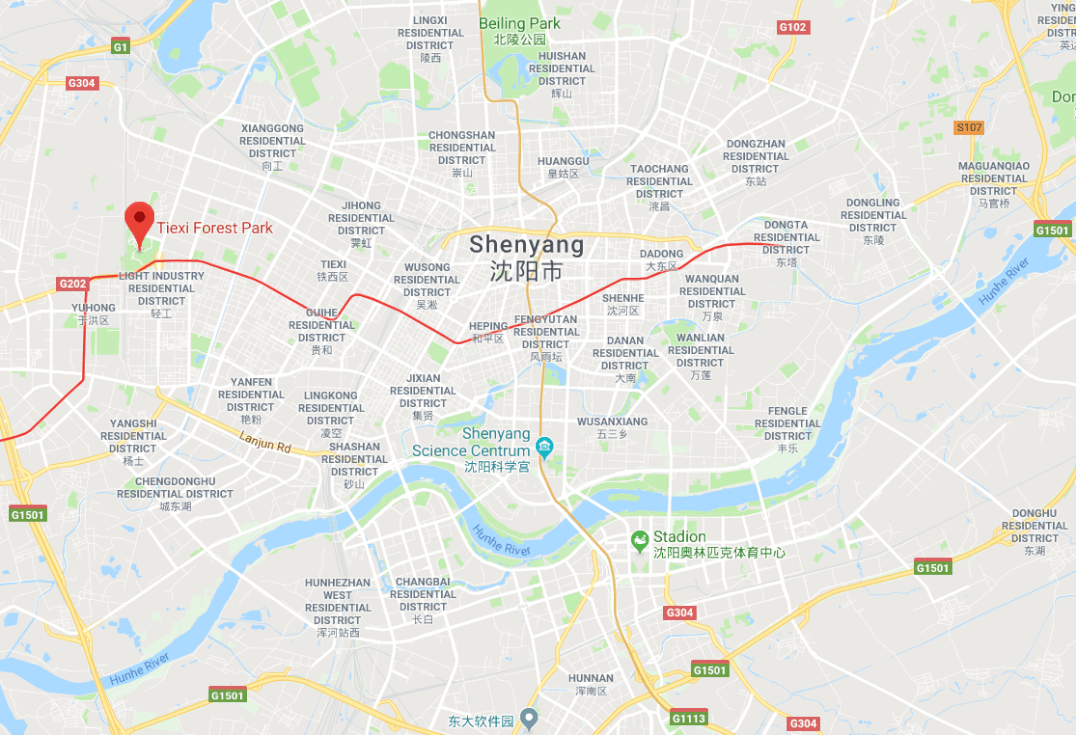 Or you could go check out Qingnian or Youth Park (青年公园 in Mandarin), just off Qingnian Avenue. The closest subway station is 青年公园 (qīngnián gōngyuán in pinyin), with the same name as the park itself.
Or maybe go to 科普公园 (kēpǔ gōngyuán in pinyin, Popular Science Park in English) further south on the same street, not too far from the Hun River.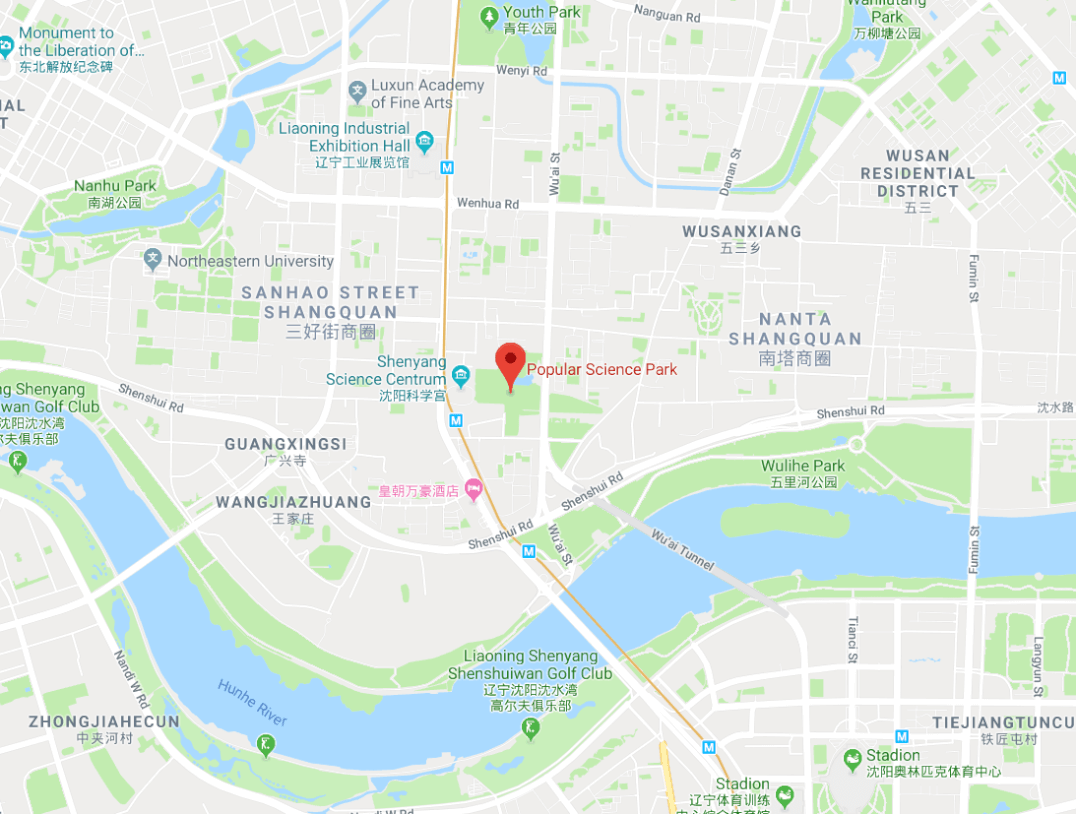 Did I miss any important spots? Have you been to any of these? How did you like it? Let me know in the comments!