Do you know whose birthday is coming up on October 1st? That's right, the world's most populated country is celebrating the 72nd year of its founding. This event is commemorated by Chinese National Day (国庆节, guó qìng jié) with extensive activities and displays all over the country.
National Day pays tribute to the founding of the People's Republic of China, which – funnily enough, was NOT on October 1st, but on September 21st, 1949. But October 1st, 1949 saw a big ceremony commemorating the founding of the Central People's Government for the emerging nation. And, when the brand-new government passed the 'Resolution on the National Day of the People's Republic of China' the following day, this document named October 1st as National Day. Maybe because 10.1 (十一, shí yī, the Chinese way of saying October 1st) has a nicer ring to it than 9.21 (九二十一, jiǔ èr shí yī), which is quite a mouthful? Or maybe because this date was in line with several other holidays such as Labour Day (五一, wǔ yī, on May 1st), Children's Day (六一, liù yī, on June 1st), the Day of the Founding of the Communist Party of China (七一, qī yī, on July 1st) and Army Day (八一, bā yī, on August 1st)? We might never know.
Certain, however, is that ever since the year 1950, National Day has been celebrated with pomp throughout the nation. Events such as flag-raising ceremonies, dance and song programs and live performances, fireworks and painting and calligraphy displays mark this illustrious occasion in all Chinese provinces. In anniversary years, Tiananmen Square in Beijing is awash with soldiers marching for a humungous military review and parade. This has happened 15 times so far since the birth of the PRC.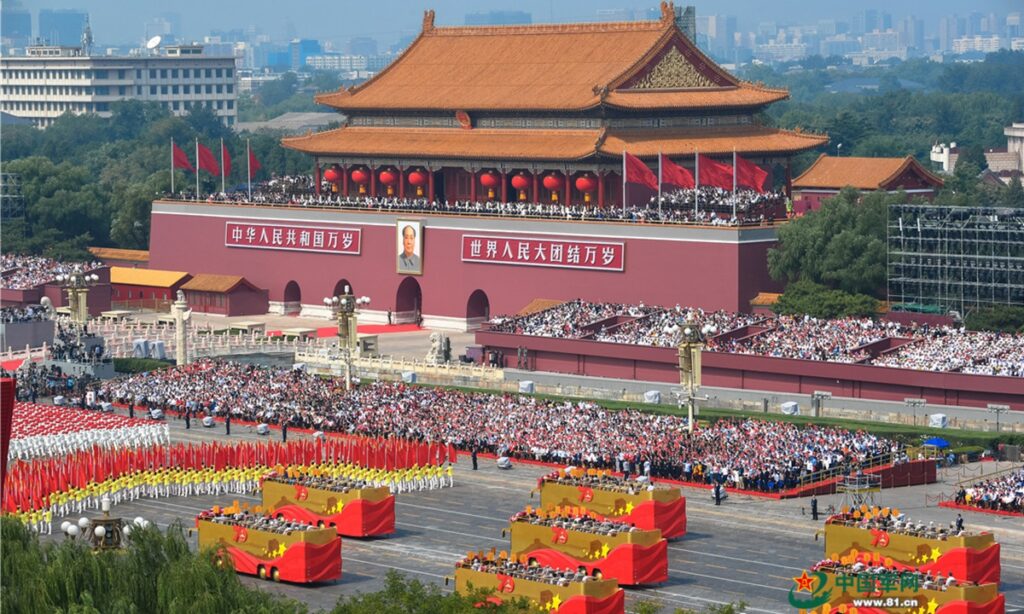 I would wager that – even more than the patriotic displays – what makes National Day such a popular holiday, is that it's the occasion for one of China's Golden Weeks (黄金周, huáng jīn zhōu). Golden Week is a seven-day break from work actually comprised of a 3-day official holiday plus 2 work days "stolen" from one or both of the adjoining weekends. For National Day Golden Week 2021, this means that China's workforce is off from Friday, October 1st, until Thursday, October 7th. But on Sunday September 26th, and Saturday October 9th, office and government workers and employees have to compensate for all this lovely holiday time and show up for work.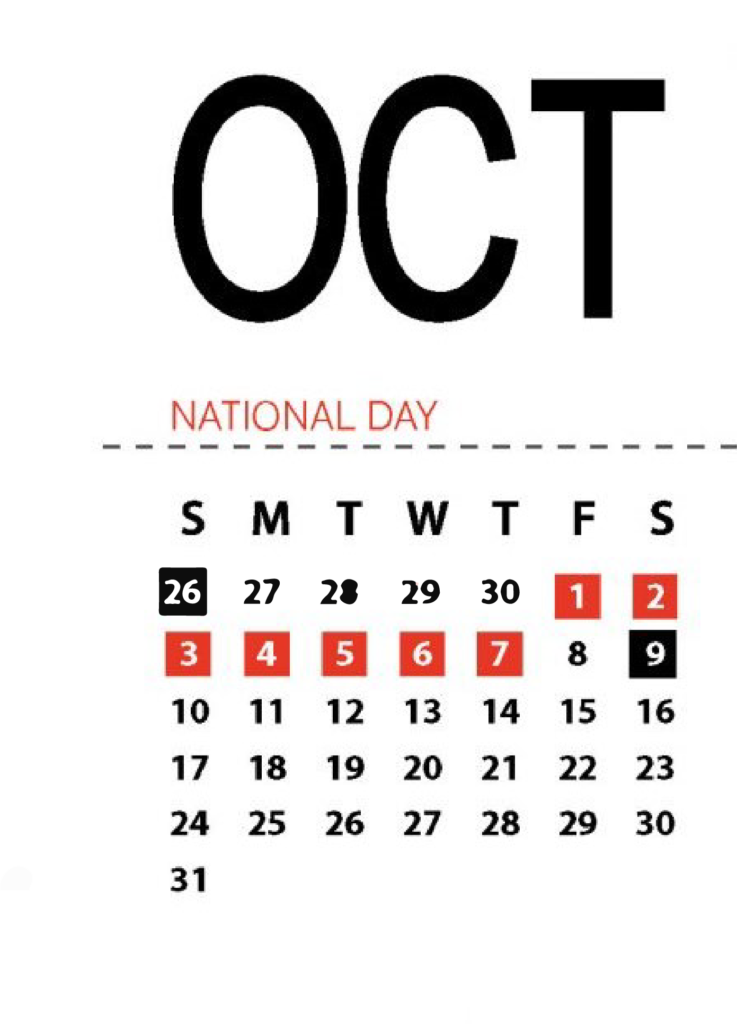 The Golden Week for China's National Day is usually one of China's busiest travel times. Tourists appreciate the mild autumn weather and use their well-deserved break time to discover the Middle Kingdom and its surrounding countries. Of course, this was in pre-COVID times. Nowadays, the still harsh visa regulations when returning to China from abroad mean that if you want to travel, you will probably confine yourself to China Mainland. New COVID outbreaks in the South of China will mean that places in Fujian province at least will probably stay off most travelers' wish list. But as of the writing of this article, there are no travel bans in effect yet. Recent reports have predicted that "only" about 600 million travelers are expected out and about this holiday, as opposed to much higher numbers in pre-COVID years.
Still, my recommendation for this Golden Week is the same as every year – explore the area in and around the place where you stay, and leave the "must-see" spots in China when most people are working. It's a lot less stressful that way.