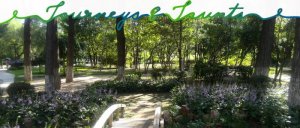 I am not much of a city girl. I grew up in a very small town in a rural part of Germany where there is green everywhere. That was a long time ago, and ever since I left home at the age of 19, I have mostly lived in cities or at least reasonably big towns.
Apparently,though, you can take the girl out of the countryside, but you cannot take the countryside out of the girl. So, one of the first things I do when I alight at a new place, is check out the greenery. The parks, the nearest patch of grass, and all the bits of nature (big or small) that I can find.
This was true for Shenyang as well. And, having been here for quite some time now, I feel I have a decent grasp of the green spots within the city. If I wanted to add the places outside the city proper, that would turn into a totally separate article.So I will stick with this for now. If you are interested in hearing about where around Shenyang you can go for a scenic walk or even do some light hiking, let me know in the comments and I will put together another list.
1.Beiling Park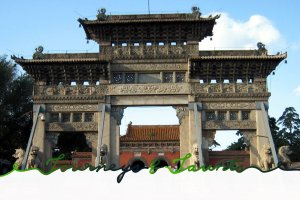 Description/Special Features:
The first park you probably think of in Shenyang is Beiling Park. Not only is it the biggest one we have in the city proper, but it also houses one of Shenyang's most famous tourist attractions – the tomb of the second Qing Emperor, Huang Taiji. With its 3.3 square kilometers, you can spend hours and hours there. And many do: summer or winter, autumn or spring, Beiling Park is always busy with the usual Chinese park activities. For more information, you can check out an old article on what happens in Chinese parks, which I wrote for Landing East way back when…
Opening Hours:
The park opens at 7:00 am and closes at 21:00. Since sun down is so early here, even in summer, the evening closing time is fine, though.
Entry:
The ticket to get into the park itself is 6 RMB. But if you want to visit the tomb of Huang Taiji, it will cost you additional 50 RMB during high season (April 1st – not a joke – to October 31st), with students paying 30 RMB. During low season (November 1st to March 31st), adults pay 30 RMB, students 20 RMB. Since you are already shelling out a substantial amount for the tomb, that ticket entitles you to a free entry to the park. Kids under 1.3 meters of height and the elderly (70 years and older) get in for free as well.
Beiling Park can easily be reached by metro, by getting off line 2 at 北陵公园BěilíngGōngyuán(i.e. Beiling Park), then walking along 泰山路TàishānLù (Taishan Road) 300m to the East, until you reach the entrance. Another way is taking the bus. Lines 136, 205, 210, 213, 217, 220, 227, 231, 393, 398, 800 and 旅游观光一线 (tourist line number 1, the red double decker buses) all stop at 北陵公园BěilíngGōngyuán(i.e. Beiling Park), right by the entrance.
2.Nanhu Park
Description/Special Features:
Nanhu Park is another of my favorites. In addition to giving us a restful splash of green in the middle of the city, it has a very big play area for children (and those who, like me, wish they still were children) with amusement park type rides and activities. If you are taking kids, be prepared to be significantly poorer by the time you leave, as the price for the rides can be quite high. Especially, because you need to pay for each and every ride separately. Even though there are "combo tickets" on offer, they are not always a bright idea, because they are only worth it if your kid wants to do exactly the rides that are lumped together. Plus, even the combo tickets are still quite pricey.
Another fun aspect of Nanhu Park is that on the weekends, it holds Shenyang's Marriage Mart. You might have heard about this Chinese institution: mothers go to the park on the weekends, and pin their unmarried offspring's deets (such as height, weight, salary, apartment including size and location, car make, etc.) onto open umbrellas, where other mothers in search for a mate for their kiddo read them and try their hand at matchmaking. The Shenyang version is mostly sans umbrellas, but the spirit remains the same. Worth checking out!
Opening Hours:
There are no restrictions, you can go into the park at any time.
Entry:
You get into the park for free. But will probably spend tons on the in-park entertainment.
The best bus lines to access Nanhu Park are 117, 135, 152, 225, 239, 244, 272, and 282, which all stop there.
3.Zhongshan Park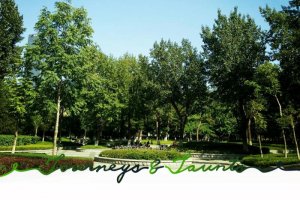 Description/Special Features:
Right smack in the middle of the city (off Zhongshan Lu, to be exact) lies Zhongshan Park. With its shady trees, vermillion summer flowers, Chinese style gardens – including artfully arranged rocks, flowing water and small pavilions – as well as bridges and quaint pathways meandering through, this park brings some tranquility to downtown Shenyang. A big statue of Sun Yat-Sen (Sun Zhongshan in Pinyin) stands proud and tall, but when the exhibitions of flowers bloom, or the lanterns are lit for Lantern Festival, or even when one can admire the ice sculptures set out during the coldest months, Old Sun is quickly forgotten.
In the children's area, rides and games lure in the kids, and tease money out of the parents' pockets.
Opening Hours:
The park is open around the clock, and has a nice running track for early risers who want to squeeze in a quick workout before heading to the office.
Entry:
This park is free to visit.
The park is accessible by bus from all four cardinal points. The West entrance is served by bus lines 115, 231, 261, 264, and 282, all stopping at bus stop 中山公园Zhōngshān Gōngyuán (i.e. Zhongshan Park). The North entrance can be reached via bus lines 103, 203, 207, 210, 221, 237, 240, 263, 501, as well as night line 206. The bus stop for this entrance is called中华路Zhōnghuá Lù (i.e. Zhonghua Road). For the East gate, you may take buses from lines 207,247, 263, 266, 287, and 296. The bus stop to get off at is 中山公园Zhōngshān Gōngyuán (i.e. Zhongshan Park). And finally, to reach the park's South gate, take buses on lines 152, 223, 282, or 523 and get off at 体育广场 Tǐyù Guǎngchǎng (Sports Square in English). Or buses on lines 225, 246 or 296 by getting off at stop 市体育局 Shì Tǐyù Jú (which roughly translates to City Sports Bureau).
4.Shenshuiwan Park
Description/Special Features:
Shenshuiwan is the name of the area north of the Hun river, west and east of the northern edge of Sanhao Bridge. This "park" is basically just the strip of greenery along the riverside. What is nice about Shenshuiwan is that you can stroll along the wooden walkway right above the water if you are on foot, but if you are biking or inline skating, this area boasts some of the smoothest roads with nary a car in sight to be found here. Well, unless you count the work trucks that sometimes thunder along, eager to get to their next site. But technically, this is a car free zone. Which is rare enough in this city.
Opening Hours:
This is open round the clock…
Entry:
…and totally free to get into.
The easiest access via public transportation is either taking the metro line 2 and get off at 五里河 Wǔlǐhé station, or take bus lines 109, 126, 152, 214, 238, 272, 286,333, 394 or the tourism line 1 (旅游观光一线) there and get off at bus stop 五里河公园西 Wǔlǐhé Gōngyuán Xī. These all lead you to the park via the East entrance. If entering by the West entrance is more to your liking, take bus lines 139, 169, 173, 222, 289, or 800 and get off at 三好桥北 Sānhǎo Qiáo Běi (i.e. North of Sanhao Bridge).
5.Dongling Park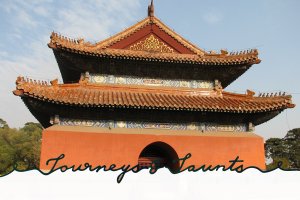 Description/Special Features:
Dongling Park is significant mostly for holding Fuling, or the East Mausoleum, which is the tomb of Nurhaci, founding emperor of the Qing dynasty, as well as that of his wife, Empress Xiaocigao. It has been classified as a World Heritage Site by UNESCO since 2004. The park is located in the northeastern part of the city. There is not a huge park complex around it, it is mostly the tomb structure itself. So, while not the best place in the city to catch acres and acres of green, it offers the opportunity to bask in Shenyang's history and enjoy the glorious outdoors at the same time.
Opening Hours:
The park/tomb is open from 7:30-17:30 during high season (April 1st – not a joke – to October 31st) and from 08:00-16:30 during low season (November 1st to March 31st). Again, this is due to the fact that it is not a classical "park", but rather a tourist attraction.
Entry:
It costs 42 RMB to enter, which price is comprised of 2 whopping RMB to enter the park, and 40 RMB to get into the tomb area. Or 33 RMB if you buy through Meituan. There are no special student discounts that I know of, but please educate me if you find out differently!
Bus lines 148, 168, 218 and 385 all take you to Dongling. The name of the station on which you need to get off is 东陵公园 Dōnglíng Gōngyuán (Dongling Park).
6.Mozishan Park
Description/Special Features:
Mozishan Park is relaxing. It is a bit outside the city and not the easiest to get to when you have to rely on public transportation. But the little trek out there is rewarded by gently rolling hills, a nice-sized body of water, a round course perfect for jogging, and peace and quiet (most times).
Good weather weekends tend to be busier, especially the dedicated barbecue area. There, you can pitch your grill under one of the pavilions set up for just that purpose, and chillax with a cold (or lukewarm, depending on your preference) beverage while waiting for the goodies to be hot, and crisp and yummy. Doing so will put you in good company and is an awesome way to mingle with the locals, try some new food and make some new friends.
Opening Hours:
The park is open around-the-clock, and least busy during weekdays.
Entry:
Zilch. This park is totally free to enter.
Mozishan Park is quite a ways outside the city, near the airport, so going there via public transport is very tricky. So taking a DiDi (unless you are one of the fortunate ones who have their own car) is probably your best bet. The address is 浑南区环山路 (Húnnán Qū Huánshān Lù in pinyin). As is often the case with addresses outside the city, the park has no house number, just the name of the street.
7.Qingnian Park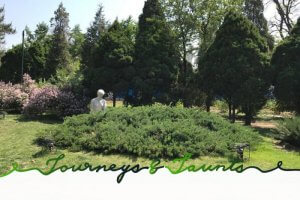 Description/Special Features:
Similar to Zhongshan Park, Qingnian Park is also a green oasis for dwellers of downtown Shenyang. The park contains a fairly big lake, beautiful walkways and trees that offer an awesome environment no matter what the season.
You can use its round course to get some exercise or sit on the various benches to enjoy the scenery. All in all, it is just a convenient spot to unplug from busy city life. In the evenings, you can use it as the perfect spot to observe the city lights, but still remain separate from the bustle. Well, except for the bustle of all the other people who had exactly the same idea as you. But, well, it's China, so true solitude is pretty much unheard of. Another highlight is that you can see the Shenyang TV tower really well from there as well.
Opening Hours:
The park is open 24/7, so you can go enjoy it whenever you like.
Entry:
Nada. This park is free to enter.
The park is located on 青年大街111号 (Qīngnián Dàjiē 111 Hào)or no. 111, Qingnian Avenue. You get there by taking metro line 1 and getting off at 青年公园 (Qīngnián Gōngyuán) station. Or you take the bus lines 214, 238, or 244, which all have stops called 青年公园 (Qīngnián Gōngyuán) as well.
8.Baita Park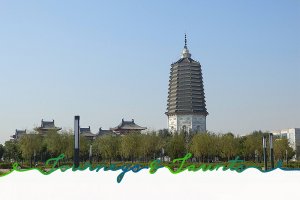 Description/Special Features:
Baita is the Chinese for North Tower and indicates the location of one of the old towers flanking Shenyang in the age of yore. Today, what remains is a beautiful lake with an ancient pagoda as well as a temple complex that you can visit. Located close to Zhongshan Park and not too far from Shenyang Railway station, it is fairly easy to get to and offers some culture along with the calming vistas of trees and flowers.
Opening Hours:
This park is open day and night.
Entry:
You do not have to pay anything to enter it.
Baita Park is located on the corner of Shanghai Road and Jinning North Street (上海路与进宁北街交叉口 in Chinese, or Shànghǎi Lù Yǔ Jìnníngběi Jiē Jiāochàkǒu. The closest bus stop to the park is 望花南街 station (Wànghuānán Jiē in pinyin) on buses 123, 131, 212, or 229.
9.Changbaidao Forest Park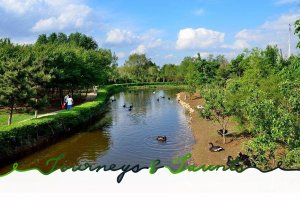 Description/Special Features:
Changbaidao is the area just south of the Hun River, between Shengli Bridge and Nanjing Bridge. And Changbaidao Forest Park is one of the green spaces set up along the river there. What makes it different from other stretches of riverside greenery is that it boasts a mini-zoo of sorts, with animals ranging from (water)fowl (think black swans, ducks of several persuasions, geese, etc.) to mammals such as goats, deer and camels. How any of the animals are still walking around is a surprise to me, since they seem to be spending all day every day being fed by visiting families. But they have – so far – not been fattened to absolute immobility, so it's all good.
In addition to the lure of animals to feed and observe, Changbai Forest Park sports a children's play area, all sorts of vehicles for rent (tandem bicycles and golf carts, two name just two), a picturesque lily pond, and more. You can definitely spend an amusing day there with the family, or even sit and people-watch for a few hours.
Opening Hours:
The park is open from 10am to 4:30pm.
Entry:
You gain entry to the park for the low, low price of 0 RMB, but be prepared to shell out some cash on each and every attraction, from feed for the animals to the rental fee for the little carts.
Changbaidao Forest Park is the stretch between Shengli Bridge and Nanjing Bridge on the south side of the Hun River. The closest bus stop is 工农桥南 (Gōngnóng Qiáo Nán in pinyin, Gongnong Bridge South in English), and bus lines 154, 287, 324, 324, 327, k801, and k802 all stop there.
10.Luxun Park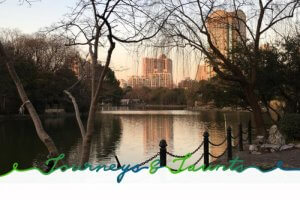 Description/Special Features:
Lu Xun and Shenyang go together: the city's Academy for the Fine Arts is named after the early 20th century poet and author, so it should come as no surprise that Shenyang also has a park dedicated to Lu Xun's memory. Inside the park is an impressive monument to the influential author, but that is not all the park has on offer. It is a particularly beautifully designed piece of flora that invites you to sit and contemplate the scenery, or amble along and enjoy the current season's tableaus.
Opening Hours:
This park is open day and night.
Entry:
You do not have to pay anything to enter it.
Luxun Park is on 文艺路2号 (Wényì Lù 2 Hào), or no. 2, Wenyi Road. Its location is actually just north of Nanhu Park, so it might be worth visiting both of them together. If you only want to visit Luxun Park, however, get off 鲁迅公园 (Lǔxùn Gōngyuán) station of buses 258, 272, or 273.